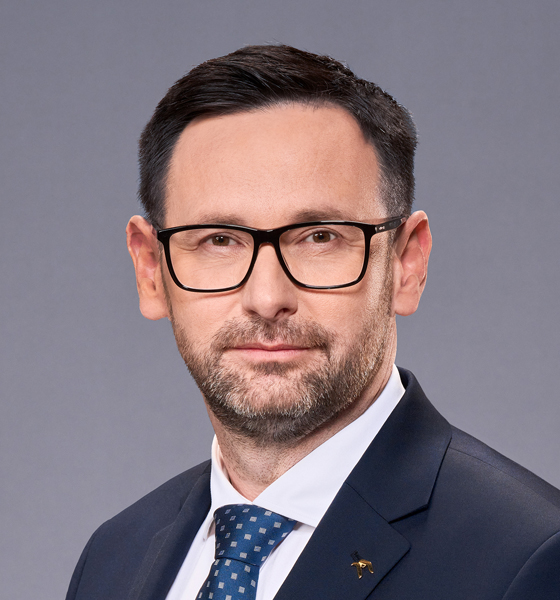 Summary of 2022
Last year witnessed a landmark in the history of the ORLEN Group. Our merger with LOTOS and PGNiG was a game-changer, propelling us to become one of Europe's largest energy companies. At the same time, our updated strategy until 2030 has charted the course for the integrated Group's long-term development. We are fully committed to leveraging the advantages that come with our new scale and business diversity.
Within the time frame of the current strategy, a sum total we have earmarked for investment is close to PLN 320 billion. This investment will not only drive the region's energy transition but will also double our profits, consistently building value for our shareholders. These endeavours are of utmost importance, especially considering the ongoing military conflict across Poland's eastern border. In response, we have not only displayed solidarity with the war-afflicted nation, but have also accomplished a historic milestone by weaning ourselves off Russian feedstock supplies. All the while, we have maintained stability in all markets where we play a key role as a fuel supplier. This accomplishment reaffirms ORLEN's readiness to embrace change and our ability to seize opportunities that arise with it.
More
Daniel Obajtek
President of the Management Board, Chief Executive Officer
Key results 2022
11.5
11.5bn (PLN 3.50 per share)
Multi-utility group
In November 2022, ORLEN closed its mergers with the PGNiG Group (in November) and with the LOTOS Group (three months earlier).
Thus establishing Central Europe's largest energy group ranking among top 150 companies in the world by revenue and serving more than 100 million customers.
ORLEN Group's 2030 Strategy
Major gas production operator

Maintaining gas exploration and stable production in Poland
Investments to ramp up production in Norway
Attractive international asset portfolio

Reliable gas supplier in the region

New LNG supply contracts for Poland secured
Development a fleet of own and chartered gas tankers

Operator of low-emission cost-effective refineries

Reduction of emissions through CCUS and energy efficiency projects
Implementation the operational excellence programme across the Group
Maximization of the benefits from the extensive international portfolio of refining assets

Biofuel production leader in Central Europe

Ambitious growth in biofuel production volumes
Building a broad product portfolio through investments in HVO and bioethanol plants

Manufacturer of advanced and speciality petrochemical products

Increasing the share of advanced and speciality products in the product portfolio, including through projects implemented in partnerships
Increasing the share of olefin derivatives
Maximising petrochemical yields (from cracking, FCC, etc.)

Operator of an extensive portfolio of green petrochemical assets

Building a procurement organisation opting for bio and alternative raw materials
Creating infrastructure for processing bio-based and alternative raw materials
Developing chemical recycling (circular economy)

Operator of low-emission gas-fired power plants

Expansion of CCGT units balancing the Polish electric power system and replacing high-emission coal-fired power plants and CHP plants

Operator of modernised and extensive electricity and gas distribution network

Modernisation of power distribution grid in the face of higher RES capacity requirements
Modernisation of gas network based on sound operational and cost rationale
Development of gas source connections (including biogas and biomethane plants)

Guarantor of stable energy supplies based on SMR technology

Development and operation of SMR reactors in partnerships
Monitoring of the SMR technologies market for industrial and municipal heat decarbonisation solutions

Regional leader of the green transition with a broad portfolio of renewable assets

Development of offshore wind power assets, in particular in the Baltic Sea
Development of onshore wind power, solar PV and hydropower projects

Major biogas producer in Central Europe

Expansion of the biogas and biomethane plants portfolio
Support for the development of a local biogas value chain by raw material management and integrating distributed assets

Integrated producer of renewable hydrogen for industry and transport

Development of renewable hydrogen production and distribution assets
Development of hydrogen production and use technologies (waste to hydrogen and synthetic fuel production technologies)

Leading energy supplier in the region

Leading supplier of energy products on the Central European market, investing in promising new mobility areas such as alternative fuels and e-mobility
Implementing an ambitious international electric mobility strategy with a focus on the Polish, Czech and German markets

Maximising asset value

Maximising asset value to maintain high returns and finance the transformation
Operational excellence achieved through the development of competencies and deployment of state-of-the-art solution's in all markets

Multi-utility leader with a customer-oriented offering

Meeting customers' fuel and energy in an integrated manner and using various means, including digital channels
Building a multi-utility offer based on the potential of the ORLEN, ENERGA and PGNiG Groups
ORLEN Group operational emission reduction targets
2030 targets
-25%
in absolute emissions from Refining, Petrochemicals and Upstream
-40%
in emissions intensity in Energy
-15%
in net carbon intensity (NCl)
2050 targets
NetZero
in 2050 for Scope 1, 2 and 3 emissions, in accoirdance with the Paris Agreement
Pillars of sustainable development
We are leader of energy transition in the region.
Powering the future. Sustainably. We will become a green energy leader ensuring energy security at the same time.